Tratamiento de caries relacionada a radiación: una revisión de literatura
Palabras clave:
radioterapia, caries dental, cáncer de cabeza y cuello
Resumen
Caries relacionada a radiación es una complicación tardía frecuente de la radioterapia de cáncer de cabeza y cuello, ocasionada por efectos directos e indirectos de la radioterapia. El objetivo del presente trabajo es realizar una revisión y analizar literatura sobre el manejo de caries relacionada a radiación, materiales usados, fallas en el tratamiento y protocolo con mejores resultados; tres revisores independientes realizaron una búsqueda en diferentes bases de datos: PubMed, Lilacs y Web Of Science, determinando criterios de inclusión y exclusión para la selección. Estudios clínicos y revisiones indicaron que los materiales más usados son cemento ionómero de vidrio convencional, cemento ionómero de vidrio modificado con resina y resina compuesta con aplicaciones de flúor. Son necesarios más estudios para definir el mejor tratamiento que incluya técnica de preparación de la cavidad y material restaurador con mejores resultados. Se recomienda realizar estudios comparando diferentes sistemas adhesivos, concentraciones de flúor y restauraciones en dentina radicular.
Citas
1. Vissink A, Burlage FR, Spijkervet FK, Jansma J, Coppes RP. Prevention and treatment of the consequences of head and neck radiotherapy. Critical reviews in oral biology and medicine: an official publication of the American Association of Oral Biologists. 2003;14 (3):213-225
2. Jham BC, da Silva Freire AR. Oral complications of radiotherapy in the head and neck. Braz J Otorhinolaryngol. 2006;72(5):704-8. https://doi.org/10.1016/S1808- 8694(15)31029-6
3. Kielbassa AM, Hinkelbein W, Hellwig E, Meyer-Luckel H. Radiation-related damage to dentition. The Lancet Oncology. 2006;7(4):326-35. doi: 10.1016/S1470-2045(06)70658-1. PubMed PMID: 16574548
4. Jawad H, Hodson NA, Nixon PJ. A review of dental treatment of head and neck cancer patients, before, during and after radiotherapy: part 1. Br Dent J. 2015;218(2):65-8. https://doi.org/10.1038/sj.bdj.2015.28
5. Moore C, Conor McListera C, Cardwell C, O'Neill C, Donnelly M, Gerald McKenna. Dental caries following radiotherapy for head and neck cancer: A systematic review. Oral Oncology. 2020; 104484. https://doi.org/10.1016/j.oraloncology.2019.104484
6. Lieshout HF, Bots CP. The effect of radiotherapy on dental hard tissue—a systematic review. Clin Oral Investig. 2014; 18(1):17–24. https://doi.org/10.1007/s00784-013-1034-z
7. Qing P, Huang S, Gao S, Qian L, Yu H. Effect of gamma irradiation on the wear behaviour of human tooth enamel. Scientific reports. 2015 5:11568. doi:10.1038/srep11568
8. Jansma J, Vissink A, Gravenmade EJ, Visch LL, Fidler V, Retief DH. In vivo study on the prevention of postradiation caries. Caries Res. 1989;23(3):172-8. https://doi.org/10.1159/000261173
9. Walker MP, Wichman B, Cheng AL, Coster J, Williams KB. Impact of Radiotherapy Dose on Dentition Breakdown in Head and Neck Cancer Patients. Practical radiation oncology. 2011;1(3):142-8. doi: 10.1016/j.prro.2011.03.003.
10. Abdalla R, Omar A, Eid K. Detecting demineralization of enamel and cementum after gamma irradiation using radiographic densitometry. Radiation and environmental biophysics. 2018;57(3):293-9. doi: 10.1007/s00411-018-0749-2. PubMed PMID: 29948141
11. Velo MMAC, Farha ALH, Santos SSP, Shiota A, Sansavino SZ, Souza AT, Honório HM, Wang L. Radiotherapy alters the composition, structural and mechanical properties of root dentin in vitro. Clinical Oral Investigations 2018. https://doi.org/10.1007/s00784-018-2373-6
12. Naves LZ, Novais VR, Armstrong SR, Correr-Sobrinho L, Soares CJ. Effect of gamma radiation on bonding to human enamel and dentin. Support Care Cancer. 2012 20:2873–2878. DOI 10.1007/s00520-012-1414-y
13. Rodrigues RB, Soares CJ, Junior PCS, Lara VC, Arana-Chavez VE, Novais VR. Influence of radiotherapy on the dentin properties and bond strength. Clin Oral Investig. 2017. doi: 10.1007/s00784-017-2165-4.
14. Wood RE, Maxymiw WG, McComb D. A clinical comparison of glass ionomer (polyalkenoate) and silver amalgam restorations in the treatment of Class 5 caries in xerostomic head and neck cancer patients. Operative Dentistry. 1993;18(3):94-102.
15. McComb D, Erickson RL, Maxymiw WG & Wood RE. A Clinical Comparison of Glass Ionomer, Resin-Modified Glass Ionomer and Resin Composite Restorations in the Treatment of Cervical Caries in Xerostomic Head and Neck Radiation Patients. Operative Dentistry, 2002; 27, 430-437.
16. Haveman CW, Summitt JB, Burgess JO, Carlson K. Three restorative materials and topical fluoride gel used in xerostomic patients: a clinical comparison. J Am Dent Assoc. 2003;134(2):177-84. doi: 10.14219/jada.archive.2003.0131.
17. Hu JY, Li YQ, Smales RJ, Yip KHK. Restoration of teeth with moreviscous glass ionomer cements following radiation-induced caries. International Dental Journal. 2002; 52, 445-448.
18. Hu JY, Chen XC, Li YQ, Smales RJ, Yip KH. Radiation-induced root surface caries restored with glass-ionomer cement placed in conventional and ART cavity preparations: results at two years. Aust Dent J. 2005;50(3):186-90. doi: 10.1111/j.1834-7819. 2005.tb00359. x.
19. De Moor RJG, Stassen IG, Veldt YV, Torbeyns D, Hommez GMG. Two-year clinical performance of glass ionomer and resin composite restorations in xerostomic head- and neck-irradiated cancer patients. Clin Oral Invest. 2011;15:31–38 DOI 10.1007/s00784-009-0355-4
20. Gupta N, Pal M, Rawat S, Mandeep S Grewal MS, Garg H, Chauhan D, Ahlawat P, et al. Radiation-induced dental caries, prevention and treatment - A systematic review. Natl J Maxillofac Surg. Jul-Dec 2015;6(2):160-6. doi: 10.4103/0975-5950.183870.
21. Palmier NR, Migliorati CA, Prado-Ribeiro AC Querido de Oliveira MC, Vechiato Filho AJV, et al. Radiation-related caries: current diagnostic, prognostic, and management paradigms. Oral Surg Oral Med Oral Pathol Oral Radiol. 2020;130(1):52-62. doi: 10.1016/j.oooo.2020.04.003.
22. Palmier NR, Troconis CCM, Normando AGC, Guerra ENS, Araújo ALD, Arboleda LPA, Fonsêca JM, Paglioni MP, Gomes-Silva W, Vechiato Filho AJ, González-Arriagada WA, Leme AFP, Prado-Ribeiro AC, Brandão TB, Goes MF, Lopes MJ, Santos-Silva AR. Impact of head and neck radiotherapy on the longevity of dental adhesive restorations: A systematic review and meta-analysis. J Prosthet Dent. 2021;11;S0022-3913(21)00068-8.
23. Franzel W, Gerlach R, Hein HJ, Schaller HG. Effect of tumor therapeutic irradiation on the mechanical properties of teeth tissue. Z Med Phys. 2006;16(2):148-54. https://doi.org/10.1078/0939-3889-00307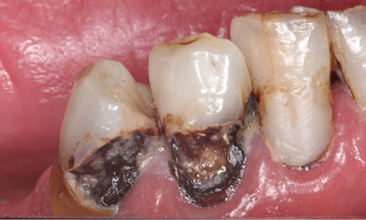 Cómo citar
Pineda Mancia, B., Melo de Lucas Rezende, L., Tabata, L., Pimentel Garcia, F., & Dias Ribeiro, A. (2022). Tratamiento de caries relacionada a radiación: una revisión de literatura. Odontoestomatología, 24(39), 1-9. https://doi.org/10.22592/ode2022n39e310
Derechos de autor 2022 Brenda Lisseth Pineda Mancia, Liliana Vicente Melo de Lucas Rezende, Lucas Fernando Tabata, Fernanda Cristina Pimentel Garcia, Ana Paula Dias Ribeiro
Esta obra está bajo licencia internacional
Creative Commons Reconocimiento-NoComercial 4.0
.